Disclosure: We may earn commissions if you purchase products after clicking on a link from our site.
Are you looking for the best pheasant hunting tips to improve your hunting game? Do you want to learn how to take down more pheasants? Do you want to have more birds in your pockets when you return from the hunt? Imagine how one or two of these pheasant hunting tips can help you achieve your hunting goals. In this article, we will share information and pheasant hunting tips to help you improve your chances of taking more pheasants home during the season.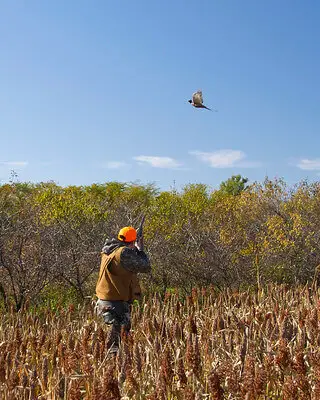 Best Pheasant Hunting Tips
1. Pheasants Sit Tight
When they feel pressured, pheasants can make themselves invisible and sit tight. They have the ability to hide in the smallest patch of grass making you walk right past them. This is one of the best pheasant hunting tips to be aware of as you will experience this if you regularly hunt them.
2. Blocking the Exits Trick
If you hunt any kind of strip, pheasants will move to the far end and flush. However, when they know that a hunter is at the exit, they will not run or flush wild. Instead, they will hunker down and take their chances with the hunter who is working the cover.
3. The Tail Trick
In the pheasant's initial leap, its long tail and gaudy colors make it appear larger than it really is. This deceives the shooter making him fail to take the lead.
4. Public Land Hunt
During the early season when there is too much activity on public lands, birds move over to private lands that are nearby. They will return to the public land to sleep but leave at the break of dawn.
The trick is to hunt public land the day the corn is picked on private land close by public land. When the corn is picked and there is no roof of cornstalks over their heads, pheasants move to the marsh grasses of the public land. Remembering this and applying it when you hunt on or near public grounds will help you be more successful hunting pheasants as this is one of the best pheasant hunting tips to remember.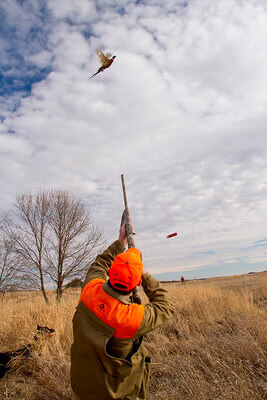 5. Only Cockbirds Cackles
When you hear a cackling bird as it flushes, that is a cockbird. The hens do not cackle. Cockbirds don't cackle every time they flush. They fly away in silence sometimes.
6. Hunt the Edges
Look for edges as pheasants go through a number of habitats during the day. Be on the lookout for areas where one habitat transitions to another.
7. Hunt Cover More Than Once
When you discover a pheasant cover, hunt it in the morning and again late in the day. There is a good chance that more birds will move into the cover throughout the day.
8. Pheasants and Snow
If there is snow, then you have a good opportunity to track pheasants. You can quickly learn their favorite hiding spots and get a good idea of how many of them are in the area. You really don't need a dog if there is snow. You can get this accomplished alone.
9. Late Season Hunt
Some of the best pheasant hunting happen after Thanksgiving. Why? There is less pressure as many hunters have left the hunting fields for the holiday. Moreover, the birds congregate more into flocks because of the winter weather.
10. Find The Roosts
Pheasants have limited roosting options on the prairie. If you find those roosts, you have found yourself a wing-shooting gold mine early and late in the day.
11. Pheasants Fly High and Fast
Pheasants will fly high and fast after the initial flush after putting some distance between themselves and the ground. If pheasants come flying in your direction after a flush by another hunter, you should be prepared to take your shot with a smooth, fast swing and lots of lead. Pheasants are fast when they are in full flight and you have to get your gun barrel out in front.
12. Hunting Without a Dog
Go very slow if you are hunting pheasants without a dog. The birds will become nervous and can create a flush when they are sitting tight, waiting for you to go past them, and you are walking slowly and stopping frequently.
13. Working Pheasant Cover
Always work toward a distinct endpoint when you work a pheasant cover. They will realize they can't outrun you and will flush as you and your dog close in on them.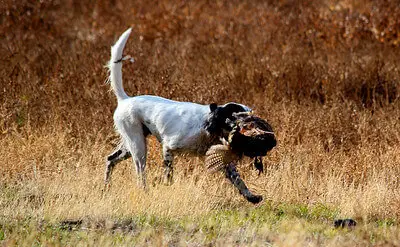 14. Opening Day Hunt
One strategy is to hunt pheasants on opening day and then a week later as they disappear after the opening day.
15. Wet Weather Sitting
Pheasants sit tighter in wet weather, therefore you have to work the cover more thoroughly than you would do on a bluebird day.
16. Move Away From Roads
According to John Madsen, he states one strategy that has worked well for him is getting as far away from roadsides and roadside field edges.
17. Breaking New Boots
Don't make the mistake of not breaking the new pair of hunting boots before the season begins. You will do a lot of walking as you hunt birds and do big games. This could ruin your hunt. We did a review of the best hunting boots and you can read it through this link.
18. Find Water Sources
Pheasants, like any living thing, need water to survive. Work covers near watering holes late in the afternoon in the dry months of the fall.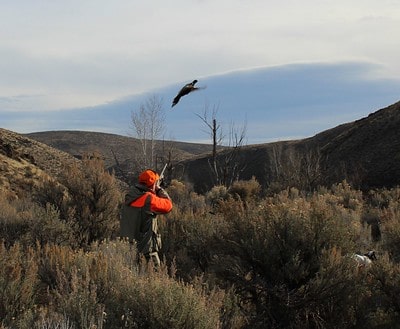 19. Reload Quickly
After shooting a flushing rooster, always reload quickly. There may be others with him. While you are filled with satisfaction for the bird you took, other birds may flush as you are unprepared with an empty gun.
20. Survival Instincts
Pheasants know how to avoid humans once the hunting season starts. They have survival instincts.
21. Zig Zag Pattern
Move in a zig-zag or "S" pattern to cover a lot of ground when hunting pheasants.
22. Pheasant Tracks
When hunting for pheasants, always keep your eyes open for pheasant tracks or the sound of them crowing.
23.  Aim Ahead of Pheasant
When hunting for pheasant, always aim ahead of the pheasant in the direction of flight when they are flying.
The Bottom Line
Every hunter wants to be more efficient in taking down more targets during the hunting season. Whether you are a hard-core pheasant hunter or a beginner, these pheasant hunting tips will help you take more pheasants home. We hope you will learn one or two new pheasant hunting tips for the next hunting season.
You can also read the best quail hunting tips, the best dove hunting tips, the best turkey hunting tips, the best goose hunting tips, how to hunt teal, how to hunt snipe, and the best duck hunting tips.