Disclosure: We may earn commissions if you purchase products after clicking on a link from our site.
Do you want to catch more Shad? Are you looking for shad fishing tips to improve your fishing skills? Shad are considered overgrown members of the herring family. They are a school fish and are found in a large groups. In this article, we share shad fishing tips to help you catch more shad.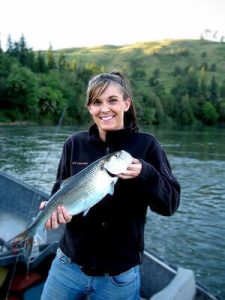 Shad Fishing Tips
1. Coastal rivers are where you want to fish for Shad.
2. The best time to fish for Shad is during the spring and summer when they return to the rivers. Fish in the spring and summer. Shad spend their autumns and winters in the ocean, so the best time to fish them is during the spring and summer when they return to the rivers for much easier access. Most people begin fishing Shad in April and May.
3. Fish where there is a strong current. Position yourself so you face the current. This allows you to catch the fish as they swim upstream. Be on the lookout for areas where there is a bend in the river as the current will be faster there and it will propel the fish toward the shore.
4. Look for shad below rocks, islands, and where water flows from fast to slow. Shad can also be found behind a cover that creates a break in the current.
5. Check out the fishing guides for the body of water you intend to fish to determine where to set up. You can catch shad in areas where the water is no more than 10 feet deep and no less than 4 feet deep.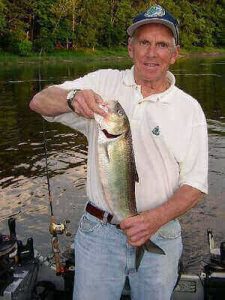 6. You don't need a heavy rod to catch shad. Opt for a lightweight rod and line. A long, lightweight spinning or fly rod in fiberglass will be a good choice. Use the lightest line that you can find.
7. To make it easy to release other fish that you are not looking to catch, use barbless hooks.
8. Study the patterns of shad. Its location in the water varies with the weather patterns. Search for shad in the early morning or right before daylight during the spring and summer.
In the evenings, you can find shad in warmer water towards the back of a cove or creek. You will also find shad around light sources in the mornings or after dark.
You will have to plan around cold weather patterns in the fall. Shad will be pushed out of the creeks and coves to deeper water by colder currents making it more difficult to catch shad.
9. Casting upstream and letting your line float downstream with little current is the best way to fish shad.
10. Shad travel in single file lines and not in large groups. Do everything to find the line.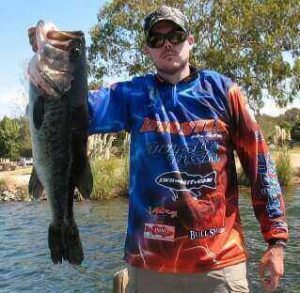 11. When you find the shad line, keep fishing it. Cast in the same place more than one time. If you found one shad, there are many more in that area.
12. Shad swim close to the shore, usually within 30 to 45 feet of land. This makes it ideal for bank anglers although it is easier for boaters who can occupy the migration lanes.
13. Find out what depth and locations shad are running and work with that information to fish shad. If you find yourself fishing just outside the migration lane, there is a good chance that you will miss out.
14. The best fishing time for shad is just before dark according to most anglers.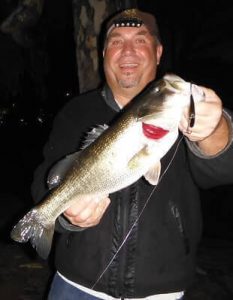 15. You will have a good chance of targeting shad in shallower water or up off the bottom on overcast days.
16. You will have to incite a strike from shad when they spawn since they don't feed when spawning. Casting shad darts and crappie jig heads in bright colors like chartreuse and green might get the strike for the shad.
17. Shad will go into deeper waters to avoid the sunlight when it is clear and sunny.
18. When shad spawn, you may encounter salmon fishing in the same areas. It will be good to check for any current restrictions and regulations regarding salmon and shad for the river you want to fish in.
19. You should know that shad don't actively feed in freshwater.
20. Small, artificial lures such as jigs, spoons, spinners, and similar lures are the best bait for American shad. Shiny or bright-colored lures are the best to use.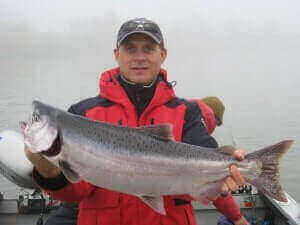 21. If the fish are running, chucking lures from a boat or from the shore will almost always produce results.
22. Shad travel in schools. If you find a school, follow it and the reward is that you will catch fish all day.
23. If you found schools and learned where they will pass during their migrations, you can set up in that area. You might not have to wait long for results.
24. Set your rod up with a 6- to 12-pound test and use lures or hooks around a 1 or a 1/0 size.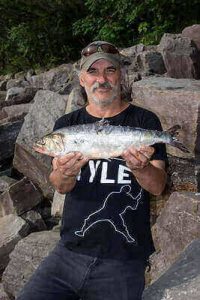 25. Shad tend to linger in the slow-to-mid-flow sections and will hang out deeper in the water when it is dark.
26. Target areas below obstructions on major rivers.
27. Lures that are cast from boats work well.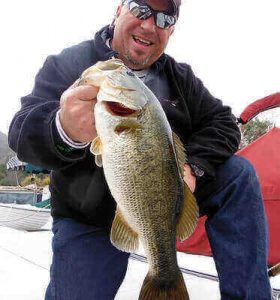 28. Let the lure or jig drift along and then "dangle" at the end of the line. This is a popular strategy deployed on the northeastern coast.
29. Good places to search for shad are where streams and small rivers flow into the main river. The mouths and shoals of these intersecting inlets create estuaries for them to spawn.
30. Other areas to search for shad are deep, slow pools. During the day when it is hot, they will take refuge in these slow pools. They can also be attracted to long, uniform flats with slow to moderate currents.
31. The final hour of daylight is when shad go all out to eat whatever they can find. They will get even more frantic as the sun fades away and it gets darker. Then all of a sudden as it will all go dead as the night comes in. They get into spawning mode when the sunlight goes away. They won't bite even though you see them moving around under the surface after dark.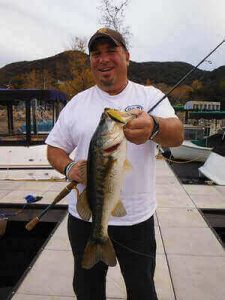 Best Shad Live Baits
1. Shrimp
2. Worms
3. Plankton
4. Fish Eggs
5. Minnows
6. Grubs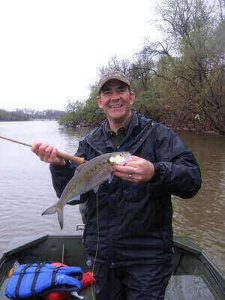 Best Artificial Baits For Shad
1. Shad Darts
2. Spoons
3. Curl Tail Grubs
What is the best way to catch shad?
The best way to catch shad is by using baits and lures.
Are shad good to eat
Shad is a great fish to eat and it is healthy for you.
How big do shad get?
Shad cangrow to a length of about 29.9 inches.
Where is shad in a river?
You can find shad around structures, where the current is high and there is moving water, river bends, etc.
What do shad fish taste like?
Shad has a sardine-like flavor that is sweet, salty, and freshly fishy.
The Bottom Line
Shad are a schooling fish. When you find one, there will be a whole bunch nearby. If you want to catch more shad, then the shad fishing tips shared in this article will help you accomplish your goal whether you are an experienced angler or a beginner.
If you fish for weakfish, then this article on weakfish fishing tips will help you catch more weakfish. If you fly fish, you can also read this article about fly fishing with nymphs to catch more fly fish.