Disclosure: We may earn commissions if you purchase products after clicking on a link from our site.
Have you always wanted to go deep sea fishing? Would you like to know some of the best deep sea fishing locations in the United States? There's nothing quite like the feel of the open ocean, spending the day on the water deep sea fishing with your friends. In this article, we share some of the best deep sea fishing locations where you can go fishing.
What's better than spending the day fishing? Many people would agree that there isn't much. The number of people participating in the recreational fishery has increased since the pandemic, with more than 52 million Americans enjoying the sport in 2021. 
Thirty states have coastlines, which can make choosing a fishing location for you and your friends difficult. The good news is there are so many great options when it comes to deep-sea fishing. 
We've spent years fishing around the nation and have some suggestions we want to share with you. This guide is going to give you the top fishing destinations. Continue reading so you can start planning your trip. 
1. Florida Keys, Florida
Lots of people tend to travel to the Florida Keys in the summer months to experience the warm weather, walk down Duval Street, and drink at the numerous local bars. However, if you want to catch some of the best big game fish, you'll plan your trip in the winter. 
The late fall is a great time to go if you want to catch grouper. You'll see Sailfish and Tuna in November, but December to February are the best months.
You'll also find King Mackerel and Amberjack during that time. This location is at the top of many people's bucket lists. The water is crystal clear, and the weather is great even in the winter months. 
2. San Diego, California
In contrast, San Diego is the perfect fishing destination in early summer. You'll have the chance to catch various fish, including tuna, yellowtail, and dorado. 
If you're up for a once-in-a-lifetime fishing trip, consider taking a day trip from San Diego to the Mexican Coronado Islands. You'll need your passport, but you'll see even more fish.
Along with the fish that are near San Diego, you'll likely catch Wahoo and Marlin. It's best if you take a charter and there are many companies that will take you there for the day.  You can improve your wahoo and marlin fishing skills by reading how to catch wahoo and how to catch marlin.
3. Charleston, South Carolina
Charleston is a popular location all year round. The ocean, creeks, and rivers make for a unique fishing opportunity.
For deep-sea fishing, you'll go about 60 miles from the shore and catch Wahoo, Mahi-Mahi, and Sailfish. If you want to stay closer to shore one day on your trip, you'll catch barracuda and Spadefish. 
The warm weather brings in a variety of species. In the spring, summer, and fall, you'll see more Cobia, Mahi, Spanish Mackerel, and Billfish. 
Fish that are in the Charleston waters year-round include Amberjack, Red and Black Drum, Black Sea Bass, Little Tunny, and Snapper. Tarpons are typically only around in the summer, so keep that in mind as well. 
4. Destin, Florida
While we can't promise you'll catch a fish on your day trip, Destin is known for being the "World's Luckiest Fishing Village." Your chances of catching a monster fish are pretty high in this area of Florida. 
If you plan on fishing offshore for multiple days, instead of booking day trips, consider a multi-day expedition. You stay on the water for days and spend all your time catching a wide variety of fish. 
One of the most popular fish to catch is the Snapper. Many fishermen look for the bright scales of the Red Snapper, but there are Gray Snapper out there, too.
Choosing a charter that is experienced is important, as Florida has strict laws surrounding the Snapper. You can get fined and even lose your fishing license if you don't follow the regulations. A professional charter will be updated to ensure you don't break the law unknowingly. 
5. Cape Cod, Massachusetts
Cape Cod is a great location for deep-sea fishing for both beginners and experts. The best way to ensure you bring in a prize fish is to set out on a 16-hour trip. 
Bluefish and striped bass are two of the most common catches, but you may also bring in Cod, Haddock, and Bluefin Tuna. Spring and summer are better seasons to go to Massachusetts for fishing, as it gets very cold in the winter and it can be hard to catch anything while deep-sea fishing. You may even see a whale or two while you're out there. 
There are limits during some parts of the year, and you may be required to catch and release. Booking with a reputable charter is also recommended in Cape Cod. 
6. Outer Banks, North Carolina
Outer Banks, North Carolina, is another great place for beginners to visit as there are a lot of fishing lesson options. It's common for a charter to catch hundreds of pounds of fish a day. 
The peak season for the Blue Marlin is in June, but don't worry if you can't get to North Carolina in the summer. August and September are great months for catching White Marlin, sailfish, and even Yellowfin Tuna. If you're looking for spring fishing, you can also travel to the Outer Banks and catch Tuna and Wahoo. 
7. Montauk, New York
New York may not be the first place you think of when you're booking fishing trips, but you'd be surprised. There's some pretty great fishing in the northern state. 
The best time to visit this fishing location is between May and October. Thousands of striped bass migrate to Maine from Long Island Sound.
There's easy access to offshore fishing and while you're out there, you'll likely catch some giant tuna, too. Some have even been recorded at 1,000 lbs. No matter how much deep-sea fishing experience you have, you can enjoy an overnight trip or a long day trip.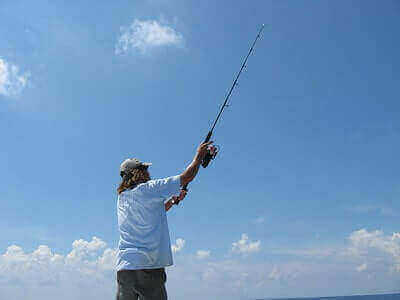 8. Seattle, Washington
On the other coast, we have Seattle, Washington, which has numerous fish species that the East Coast doesn't have. Salmon is one of the most popular catches, and they can be caught all year round.
However, the most common time to fish for them is November to April. Don't be surprised if you reel in flounder, lingcod, and cabezon in some fishing spots. Be sure to check the weather, as it can be a little harsher than in the Carolinas and Florida. 
9. Maui, Hawaii
Maui, Hawaii, is another one of the top fishing spots in the United States. The blue water is unlike anywhere else and the scenery during your offshore fishing trip is incomparable. 
There are so many species of fish in Hawaii, you can't go wrong any time of the year. If you're looking for specific fishing, you'll want to look online for the best seasons. 
Maui is a great place for a fishing trip, as there are many other activities to do. If someone in your group doesn't want to fish every day, they can stay on shore. 
10. Venice, Louisiana
Venice, Louisiana is going to be slightly less scenic than Hawaii and some of the other locations, but it has great Red Snapper fishing. You'll likely be near the oil rigs, as that's where many schools of fish hang out.
You'll want to start your trip early in the morning to get out there before everyone else. After your day trip, if you aren't too tired, you can explore Bourbon Street and talk about your fishing adventures. 
11. Galveston, Texas
Texas is another location you can go to year-round. It's located on the Gulf of Mexico, with warm weather the majority of the year, and you'll find lots of flounder and cobia. If you want to improve your flounder and cobia fishing skills, then you can read how to catch flounder and how to catch cobia.
We recommend taking a 12-hour trip about 60 miles out for the best fishing. One of the benefits of booking with a guide is you don't have to worry about finding the best spots and bring your tackle and bait, as it will be provided. Pelican Island is a popular location to catch redfish, trout, and flounder.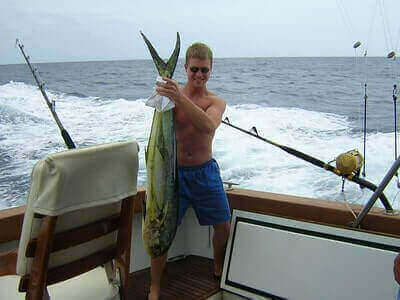 Sport Fishing Tips
No matter where you're traveling, it's important to remember a few things. First, take a camera. You're likely to catch a big fish when you're deep-sea fishing and you'll want to have a record of your adventure. Be sure to research local and state laws. Safety and ethical fishing should be top priorities as well. Lastly, don't forget the sunscreen. 
Deep Sea Fishing Locations
You can't go wrong choosing one of these fishing spots. There are so many options you can choose to go to the Atlantic, Pacific, or the Gulf of Mexico for deep-sea fishing.
The best part is you don't have to choose just one destination. Each location has its peak season and you can travel to different spots throughout the year.
Don't wait, start planning now. While you're getting ready for your trip, check out our page. We have lots of information ranging from tackle gear to the best advice for beginners. 
What month is best for deep sea fishing?
June and July are the best months to ge deep sea fishing.
What time of day is best for deep sea fishing?
The best time of the day for deep sea fishing is either dawn or dusk.
How long should you go deep sea fishing?
The average length of a deep sea fishing trip is about 8 to 10 hours for day trips and about 3 days for extended trips.
What depth is considered deep sea fishing?
Deep sea fishing is usually done at depths from 90 to 100 feet deep, although you can go beyond 100 feet up to 6,000 feet or more.
How do you prevent sea sickness when deep sea fishing?
To prevent sea sickness when deep sea fishing, always stay hydrated, eat lightly before going deep sea fishing, avoid drinking alcohol before or during the trip, remain above deck and sit in the middle or at the back of the boat.
What is the best bait for deep sea fishing?
Shrimp is usually the best bait for deep sea fishing.
Is it better to fish in shallow or deep water?
Although you can be successful fishing in shallow water, the best place for fishing is at deep sea.
Can you use lures for deep sea fishing?
Lures can certainly be used for deep sea fishing.
The Bottom Line
Deep sea fishing is an exciting and rewarding outdoor activity that you can experience with your family and friends. In this article, we shared some of the best deep sea fishing locations in the United States.
Deep sea fishing allows you to catch a wide variety of fish and learning the tips and strategies to catch them will make your deep sea fishing trips more fun and rewarding. You can learn how to catch amberjack, how to catch mahi mahi, how to catch mackerel, how to catch red snapper, how to catch pompano, and how to catch largemouth bass from these articles. You can also read how to plan a deep sea fishing trip.