Disclosure: We may earn commissions if you purchase products after clicking on a link from our site.
Do you want to learn how to catch cobia? Cobia fishing can be challenging as it requires good angling skills, patience, and high-quality gear because of its size and strength. However, cobia is an excellent gamefish and also good for eating. Cobia is found on the Atlantic and Gulf coasts. Cobia is a migratory fish that goes to the south in winter and moves up north in summer. In this article, we share information and fishing techniques to help you learn how to catch cobia.
How To Catch Cobia
1. Chumming
Chumming is a fishing technique that involves dropping bait or lure into the water at an interval to get the attention of the fish. Use shrimp heads or die-offs from the local seafood store. Drop the bait at regular intervals and cobia and other fish will eat them up. As you do this regularly, send down your line with the bait and the cobia will strike.
2. Sight Fishing
Sight-fishing is one of the ways to fish for cobia. When they are near the surface, it is easy to see them. However, sight-fishing cobia is challenging as they are not really hungry when you spot them near the surface. They are bottom feeders and are usually full from feeding on the bottom when they swim near the surface.
When you spot cobia near the surface, you can entice them to strike by dropping live bait like eels, mullet, or shrimp. Always throw the bait a little distance from the cobia and retrieve it until it is about 10 or 12 feet in front of it. Then free spool the reel.
You can also use lures to attract the cobia when sight-fishing. Use jigs, bucktails, plugs, and spoons to get cobia on the surface to strike. You can cast a jig about 5 or 10 feet in front of the fish and let it free fall. Cobia seems to always get attracted to lures that are going straight down and will go after it. You will feel a bump on your line and that will be the signal that the cobia has struck.
If cobia appear close to your boat and then suddenly disappear, most likely they have swam underneath the boat. Just drop bait or lure close to the boat and they will lunge from underneath the boat.
3. Trolling
Trolling can also be used to catch cobia. When trolling for cobia, you want to keep a speed between 4 and 6 knots. Let the line out behind the boat about 50 to 150 feet with a variety of lures. Additionally, use 40 to 60-pound class gear. Troll for cobia over shoals, channel edges, coral reefs, and wrecks. When a cobia is hooked on the line, pull in the other lines to prevent tangles.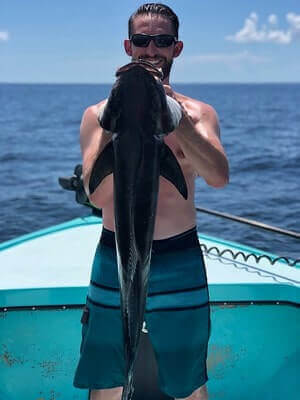 Cobia Fishing Setup
You can use a medium-heavy 6-to 7-foot spinning rod with a high-quality reel that is spooled with at least 225 yards of 20 to 30-pound test. You need a smooth drag as the cobia is a large and very powerful fish. You can choose between monofilament or the braided line.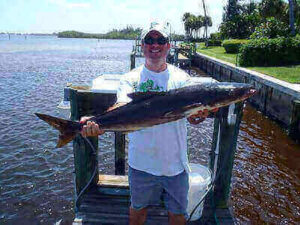 Best Baits For Cobia
1. Eels
 Live eel is considered the best bait for cobia.
 
2. Croaker
 Croakers and eels are the best baits for catching cobia.
 
3. Mullet
 Mullet is a good bait for cobia whether it is live or not. it will always get eaten by cobia.
 
4. Crabs
 Crabs are one of the most used baits for cobia and they are always eaten by cobia.
 
5. Shrimp
 Shrimp is one of the most used baits, not only for cobia but for other fish as well.
 
6. Squid
Squid is also used by anglers as a good bait for cobia.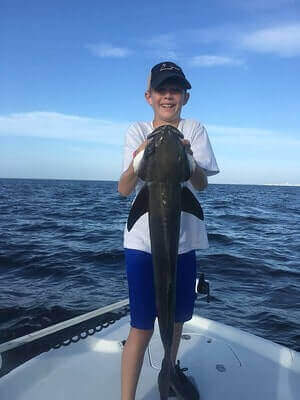 Best Cobia Fishing Lures
1. Bucktail Jigs
 
 
2. Topwater Plugs
 
 
3. Crankbaits
 
 
4. Cobia Jig
Cobia Fishing Tips
1. Look for temperature breaks and areas with weaker currents than the surrounding areas like tide lines or rip lines when sight-fishing.
2. For sight-fishing, the most important thing is the temperature. Cobia will start to appear when the water temperature reaches 65 degrees Fahrenheit.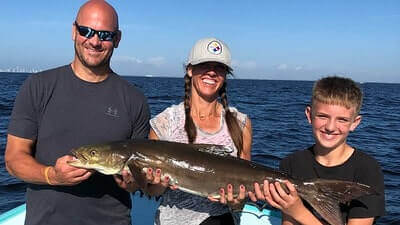 3. Cobia jig is the favorite cobia lure.
4. Cobia does most of its feeding at dawn and dusk.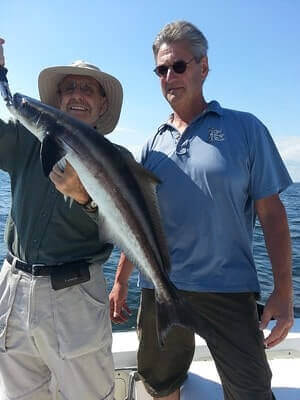 5. Cobia is mainly sight feeders.
6. When fishing for cobia, you can use chumming to attract cobia.
7. Always take along a variety of jigs in different sizes, styles, and colors.
8. Cobia likes structures and can be found around reefs, floating debris, and weed lines.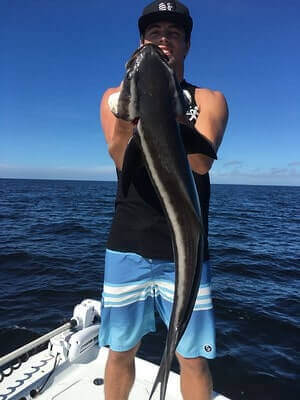 9. When sight-fishing, keep an eye out for sea turtles and rays. Cobia tends to follow these animals in search of an easy meal.
10. Trolling is an effective way to catch cobia.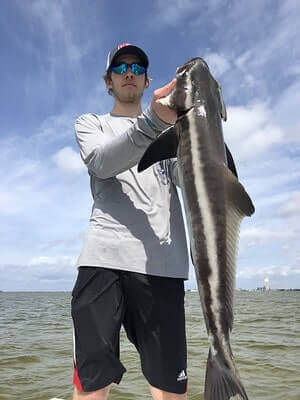 11. During spring when cobia are spawning, you can use fly fishing to catch cobia.
12. Cobia stay close to the surface when they are migrating. This is when you want to spin and cast.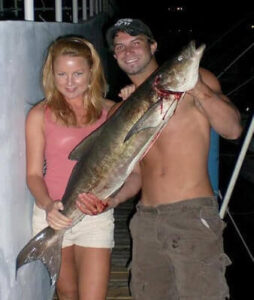 What is the best bait for catching cobia?
Eels, mullets, crabs, and shrimp are some of the baits used for catching cobia.
How deep do you fish for cobia?
You can find cobia near the shore in depths of 30 feet up to 300 feet.
Are cobia bottom feeders?
Cobia is the bottom feeder and eats crustaceans and other prey found at the bottom.
What size reel is best for cobia?
A medium-heavy to heavy action spinning rod with a 5500- to 8000-size reel works for catching cobia..
Are cobia good eating?
Cobia is a good fish to eat.
What time of year is best for cobia fishing?
October to April is the best time to fish for cobia.
The Bottom Line
Cobia is a hard fighter and with their size and power, it can be a real challenge fishing for them. High-quality equipment, good angling skills, and patience are required to successfully catch cobia.
In this article, we shared knowledge and information to help you catch more cobia during your hunting trips. If you also like to fish for ladyfish, barracuda, and sheepshead, then read these articles how to catch ladyfish, how to catch barracuda, and how to catch sheepshead.